STICKERS - REMEMBER THE BAGS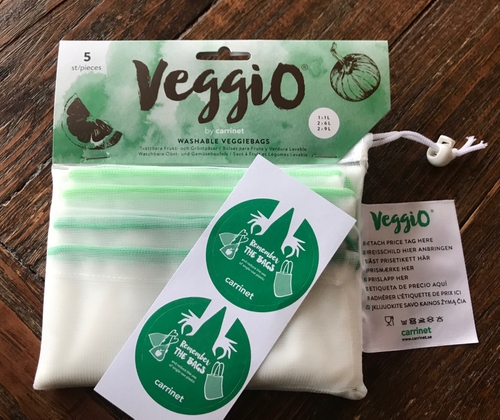 STICKERS - REMEMBER THE BAGS
För att inte glömma dina Veggios eller återanvändningsbara bärkassar när du ska handla, kan du sätta dessa klistermärken på dörren, i bilen, i bagageluckan eller på något annat smart ställe där de hjälper dig komma ihåg.

Du får 2 st runda klistermärken 5 cm i diameter i en skön grön färg, tryckta i miljövänligt svanenmärkt papper. Vid köp av 2 set 5-pack Veggios får du dessa klistermärken på köpet.
Alltid fri frakt vid köp över 300 kr.
Ange koden: FREESHIPPING
In order not to forget your Veggio (or reusable carrying) when shopping, you can put these stickers on the door, in the car, in the trunk or in any other smart place where they will help you remember. You get 2 round stickers in a nice green color, printed in environmentally friendly swan-marked paper. When buying 2 sets of the 5 packs you will get these stickers for free.
Always free shipping when buying over 300 SEK.
Enter the code: FREESHIPPING
Veggio can be used over and over again and will help reduce the amount of single use plastic and paper bags and keep them from littering the environment.
Material: 100% rPET. Designed in Sweden - Made in China.
Upgrade! Veggio is now made from recycled PET bottles
Made from rPET Bottles.

100% Recyclable

Food Safety Certified

Transparent and lightweight

Side label for attaching price tags

Rinse your produce through the bag

Machine washable at 40°c (Hang dry)

Mold does not stick on the bags

Holds 10 kg/22 lbs

Multilanguage packaging;
EN, DE, FR, SE, DK, NO, ES, IT